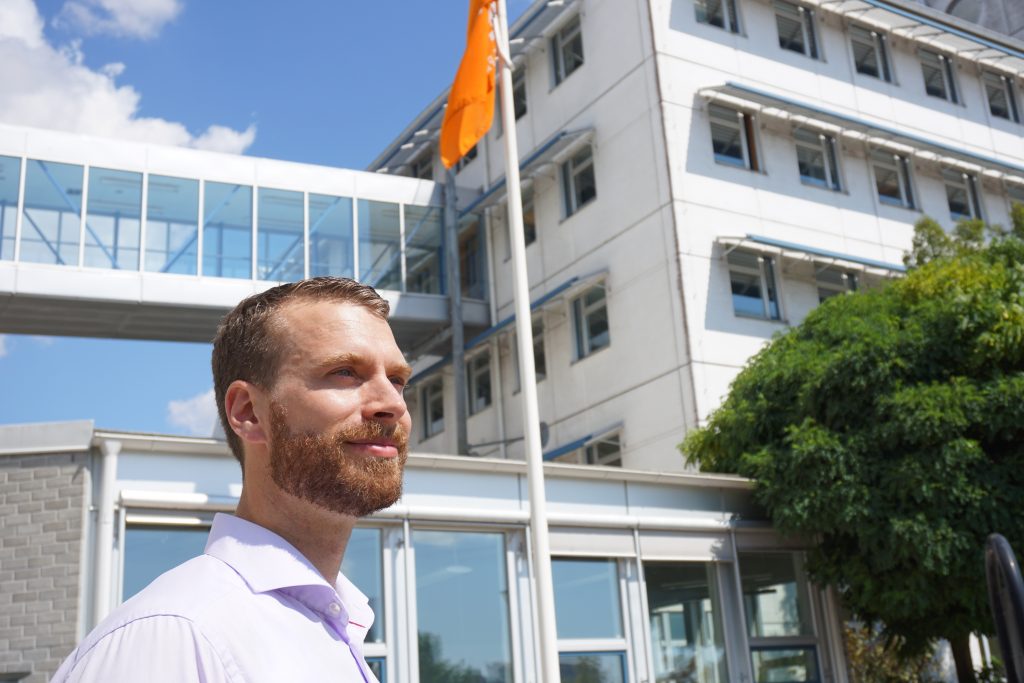 Ola Samuelsson is the new CEO at Terranet since July 27, 2018. He is the former CTO of the company where he led a team of 25 engineers through the company's various development projects. It has been almost three weeks since you where appointed CEO and we think it's time to get to know Ola better:
Hi Ola, please tell us about yourself!
My name is Ola Samuelsson and I'm the CEO of Terranet since 2 weeks. I'm grateful for getting the opportunity, it is very exciting! I am from Skåne originally and have now lived in Lund for 20 years where I graduated from Lunds university in electrical engineering.
… and your background?
I have worked at Sony Ericsson, Sigma Connectivity and Sony Mobile with RF, ie everything that has to do with connectivity, both cellular and non-cellular devices for ten years. I had the privilege of spending a year in Japan where I was team lead for an international development team. Over the last five years I have worked with Internet of Things, IoT, devices that connect and exchange data with each other.
What was it that made Terranet an interesting company for you?
What I think is amazing with Terranet is the focus on development outside of the mobile infrastructure, what happens when we lose connectivity and in which ways can we fix it.
The increasing amount of connected products leads to a major strain on the infrastructure. In our three product lines, we are working with that challenge – developing solutions where the products can speak to each other without having to burden the network. Moreover, having a great team and exciting partners makes it even more interesting!
What's your view at the company's journey so far?
The company has been around for a while, since the middle of the 21st century and has since then gained a lot of experience and developed impressive partnerships. On the technical side,
it has been a long journey going from hardware to software company. We have followed the market and the movements during the entire time which. In tech, a lot happens in a few years. It's moving extremely fast, new standardizations are coming and Terranet has built up good relationships with both chipset suppliers and partners in different industries during this time.
A press release announced quite big changes in the company, how would you describe what the changes?
Yes, a press release was sent out in mid-July, which communicated that we were going to do three things: cost reductions meaning streamlining of the entire company, appointing Fredrik Hedlund as the new chairman, and electing me as the new CEO. In conjunction to that the former CEO was announced to join the board as an operative board director.
Why this is happening now is first and foremost because we see that incoming revenue from license agreements take longer than we expected and we want to secure future development until then.
Explain what it means to the company.
To me it is important that the development part is intact and that we now concentrate on the core, what we do best and use our cutting edge competence within the product lines we work in. Regarding the foreign partners mentioned in the press release, there is really nothing new. We continuously use partners for different services and will do so to a greater extent, instead of bringing in more consultants. We find it beneficial to us as a small development company.
We are grateful to have had access to incredible expertise and experience via Christian Lagerling, but we are alsohappy to welcome the new Chairman of the Board, Fredrik Hedlund, who has a solid background in product development and strategy work in the connectivity industry and telecommunications. Me and Pär Olof Johannesson, who joined the board, have a good cooperation and PO, with its extensive network, will focus on international business.
You said expertise, what is Terranet's expertise according to you?
What we are experts in is how different types of devices can communicate with each other and we implement and execute on that expertise in our three product lines: Vehicle to Vehicle, positioning and communication between vehicles. Machine to machine, devices that can be paired to transfer data, audio and HD video. Phone to phone, how phones can discover each other in environments with no access to – or overloaded internet.
Now when you are the CEO of Terranet, you left  the role as CTO, how will that work?
I will not let go of all responsibility for development, I have good support in the management team and I will review the projects together with our tech leads, a role which acts as CTO for each product line. Together our three product lines make up for a rather broad technology area, so it's important that everyone focuses on what they are bgood at.
From a broader perspective, what direction is the development taking in your industry?
The main development of different functionalities takes place on the chipset side, speaking about cellular tech development,  run by manufacturers like Qualcomm, Intel and the Chinese chipset companies. Standards set by standardization organizations is plays a significant role in the direction of certain functionalities and features. It's important to follow what road the industry decides to take. If you make major changes, there is risk for your technology not to be able to communicate with other technologies, which is why the industry agrees with prevailing standards. Therefore, it is very important for us to follow what is being determined but also to add the improvements that add value to the customer.
In case of major changes like the ones Terranet is now pursuing, change of chairman of the board, change of CEO, restructuring, how do you go through something like that?
I think it is about doing a lot of work. I believe in building trust and in being clear about what you want. The situation is special, we are listed company and is obligated to follow rules for what information we are allowed to share. Some of the feedback I have received is that we can be better at communicating what we are doing, which I agree with and we are working on to improve..
Now you enter the third week as CEO, can you describe what it has been like?
I work hard to catch up with the plan we have set up. We have a first board meeting coming up next week we will publish the the interim report. Except for that I my focus is on delivering the projects that we have, creating value for our product lines and of course communicating with the market. It's challenging and I have big expectations!
Do you have time to do anything else?
Right now all my focus is on the new role and my family. I'm trying to make room for some exercise and running and have some kind of work-life balance.